Omnex offers quality outsourcing services for various quality functions. We will manage the function as a stand-alone initiative, or as part of an integrated solution with your internal resources.
PlanTech - Omnex Outsourcing
The Omnex division of PlanTech Inc. can improve organizational performance through Specialized Staffing, Supply Chain Servicing, Auditing & Assessments, and Product & Process Improvement. We can assist your company in making process improvements that result in efficiency and resource savings. PlanTech also provides expert guidance in improving organizational or supplier's Quality Management System, Environmental Management System, Health and Safety Management System, and IT & Information Security Management System.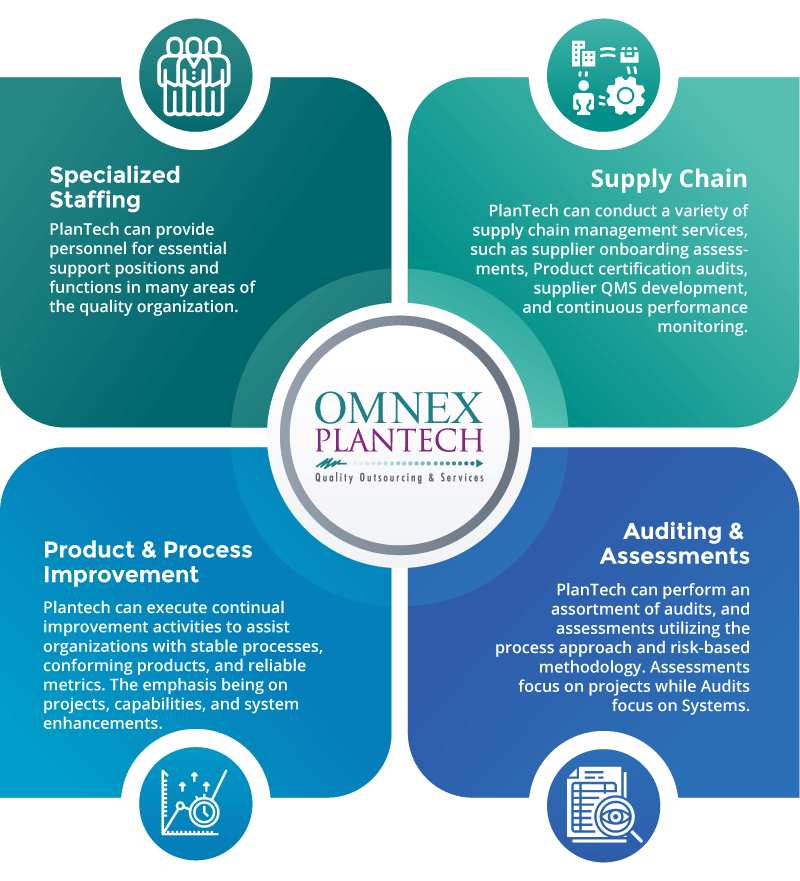 Specialized Staffing
PlanTech can provide personnel for essential support positions and functions in many areas of the quality organization. Our Specialized Staffing strategies provide clients with employees to fit companies' specific needs. Whether you require a short-term or long-term position, we can support your efforts. Our screening, onboarding and assessment processes place the right associates in the right positions. Our focus on process improvement, flexible scheduling and employee development assures the best opportunity for optimal workforce planning. Good people are hard to find and on average, a company spends approximately $10,000 on the recruitment of a new hire. This cost includes the time spent on assessments, interviewing and orientation. PlanTech can save you that time and money.
By providing the right employees with the right positions at the right time, we can help ensure your company's success. With our thorough screening process, we provide the best employees out there. No matter what your challenges are, we will meet your needs.
| Positions | Selection Process |
| --- | --- |
| Quality Manager | Completed a precise and thorough selection process |
| Functional Quality Engineer | Comprehensive Risk Management Screening |
| Quality Engineer | 100% E-Verify Compliance |
| APQP Manager | Background Checks |
| PPAP or FAI Reviewer | 100% Pre-Placement Drug Screening |
| Auditor (Internal or Supplier) | One-on-One Behavior based interview |
| CQI or NADCAP Assessor, ASPICE, Assessor, Cybersecurity Manager, Cybersecurity Engineer and others | |
| NDT Level III | |
| Quality Assurance | |
| Documentation Specialists | |
| Others | |
Speed, accountability, expertise, and pricing are among the key benefits to utilizing PlanTech for your staffing needs. Interested in hiring an employee through our staffing services but not sure how it will affect your strategic direction? Then contact our experts at PlanTech Inc., our dedicated team is ready to assist you with your situation and answer any questions.
Supply Chain
From a technical point of view, the continued selection, development and monitoring of suppliers is one of the key processes that ensures your organization's success. In today's industry climates, the common tools and processes used are not sufficient to effectively manage extended supply chains and globalization's costs. The lack of communicated requirements between organizations and their suppliers have a negative impact on the end-to-end performance.
Outsourced SCM functioning through PlanTech has a proven positive impact on production and the bottom line. PlanTech Inc. can conduct a variety of supply chain management services, such as supplier onboarding assessments, product certification audits, supplier QMS development, and continuous performance monitoring.
Our experienced supply chain experts can optimize your network and provide you with the internal flexibility to focus on additional areas of concern. Utilizing an outsourcing service can free up additional resources for internal improvement projects. From supplier selection to inventory forecasting, we will work with you to align your suppliers with your strategic direction to maintain the low costs you anticipate. Through integrating the PlanTech methodology with your current control tools, we create a philosophy of continuous improvement. With an optimized supply chain, you will be better equipped to speed products to market, drive growth, and focus on what matters most - your customers.
| Services | Methodology |
| --- | --- |
| Initial Supplier Capability Assessments | Risk and Trend Analysis |
| Management System Audits | Strategic Direction and Objectives Alignment |
| Product Certification and Capacity Assessments | Product Capability and Capacity Development |
| Problem Solving and NCP Actions | Process Improvements |
| Product and Process Risk Analysis | PFMEA and Control Plan Development |
| KPI Development and Monitoring | Statistical Process Control Implementation |
| Functional Safety, Cybersecurity & ASPICE Assessments, Audits and Confirmation Reviews | |
Product and Process Improvement
For an organization to survive and thrive, a robust ongoing continual improvement process is essential and PlanTech Inc. offers the help you need to be successful. Continuous Improvement in products and processes is key in the competitive environment or the industry you are in. Customer expectations will continually increase, competitors will seek an edge, and new methods of operation through improvements in technologies emerge. Getting to and remaining at the forefront of your industry, an outside resource specializing in error proofing, lean manufacturing, capability enhancements, and risk analysis may be required.
Many organizations have turned to PlanTech for their expertise in product and process improvements. Plantech can execute continual improvement activities to assist organizations with stabilizing processes, conforming products, and reliable metrics. The emphasis being on projects, capabilities, and system enhancements via true root cause determination and complete risk assessments.
As a company, you may encounter operational challenges, complaints from customers, or optimize existing workflows, it's time to implement process improvements. A process improvement is about identifying an area of the organization where existing business processes are lacking in some capacity. This could be defined in terms of product or service quality, meeting key business metrics like on-time delivery, or customer satisfaction. PlanTech Inc. helps by utilizing customized and strategic methods specific to your organization. Our methodologies include Six Sigma, SPC, Kaizen Events, Process Mapping and Gap Analysis to set and reach quantifiable goals. We utilize proprietary software to track, review, and maintain the progress of each project to ensure all agreed upon deliverables are met on time, every time. For ASPICE, functional safety or cybersecurity improvement, see Electric and Autonomous Vehicle section.
| Product | Process |
| --- | --- |
| Internal Capability Assessments | Initial Supplier Capability Assessments |
| Product Certification Assessments | Process Capacity Assessments |
| Problem Solving and Error Proofing Actions | Problem Solving and Error Proofing Actions |
| Product Risk Analysis | Product Risk Analysis |
| DFMEA and FTA Projects | PFMEA and Control Plan Development |
Auditing and Assessments
In our continued effort to assist your organization to achieve its goals, our well-trained and professional auditing team can perform an assortment of audits, and assessments utilizing the process approach and risk-based methodology. Assessments focus on projects while Audits focus on Systems. PlanTech Inc., over the past 10 years has helped many companies with their internal and external auditing requirements and improve their auditing programs. This has resulted in a reduction in costs and other resource usages while increasing production, confidence, and customer satisfaction.
Not only is an internal audit required by all ISO standards, it also allows an organization the chance to objectively and thoroughly examine, the reliability of internal processes and controls. The internal audit may also help improve operational effectiveness and compliance.
PlanTech offers the option of Outsourced or Co-Sourced internal audits. Even if you have directed an internal audit program over the years, there are times when this process is simply too overwhelming for your internal audit team. PlanTech can supply the reinforcements you need without missing a beat. Perhaps you want to streamline your processes and need the fresh perspective of experienced auditing professionals outside of your organization. For several reasons you might need an outside professional resource and we are just what your organization needs to enhance your entire audit program.
| Audits | Assessments |
| --- | --- |
| Management System | Initial Supplier Capability |
| Problem Solving & Corrective Action (CA) Follow Up | Product Certification and Capacity |
| Specialized Product | Special Process (CQI & NADCAP) |
| Internal or Supplier Process | Problem Solving and Error Proofing |
| Pre-Certification Gap | Product and Process Risk |
| | Internal Process Readiness Reviews |
| | Functional Safety Assessments, Audits & Confirmation Reviews |
| | Cybersecurity Assessments, Audits & Verification |
| | ASPICE Assessments |
| | Others |
An Outsourced or Co-Sourced audit program is the right choice for your organization. Take a few moments to learn more about these professional options at PlanTech Inc. to see how each solution might work for your organization, and ultimately give you the best results.