The ISO 27001 Family of Documents
ISO/IEC 27000
ISO/IEC 27001
ISO/IEC 27002
ISO/IEC 27003
ISO/IEC 27004
ISO/IEC 27005
ISO/IEC 27006
ISO/IEC 27007
Overview and Vocabulary
Requirements
Code of practice for controls
Implementation guidelines
Measurement
Risk Management
Requirements for 3rd party audit and certification
Overview and Vocabulary
The full range of the ISO 27000 family of standards goes up to ISO/IC 27043
While ISO/IEC 27001 and ISO 27006 are requirements standards, the remainder are essentially guidelines or best practices.
ISO/IEC 27001:2022 Requirements Structure and Security Categories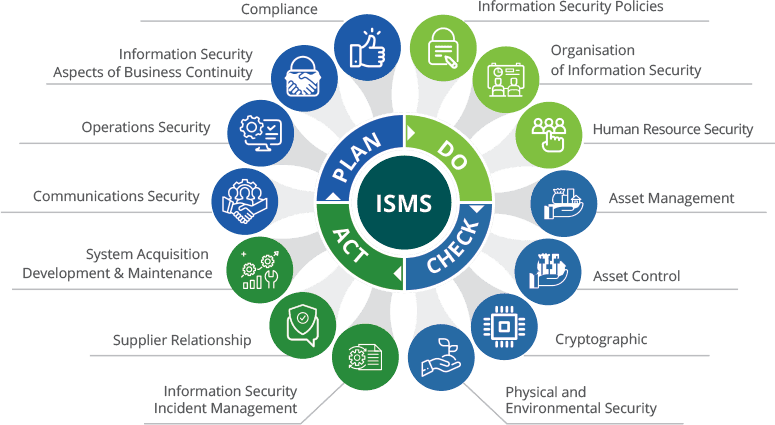 Annex A is comprised of security control clauses or "security domains", Security categories, or "control objectives" and controls.
Controls are typically selected from Annex A (or equivalent control structures) based on risk assessment, risk treat-ment, legal, contractual, or regulatory requirements (NIST 800-171) or based on best practices.
What is NIST SP 800 Series?
The NIST SP 800 series is a set of documents managed by NIST (National Institute of Standards and Technology). Containing more than 160 documents, the NIST SP 800 series provides guidelines for the implementation of computer security policies, procedures, and configurations, such as:
What is NIST SP 800 Series?
The NIST SP 800 series is recommended for organizations that are highly dependent on computer environments, and for those required to provide a stable and trustworthy computing environment.
These documents provide both nonspecific and non-technology-oriented practices, as well as recommendations for specific technologies, and like COBIT and ISO 27001, can be used by organizations of all sizes, from both the private and public sectors.
The main disadvantages of the NIST SP 800 series are related to the lack of centralized documents to help beginners to have a systemic overview of the material, and the fact that the documents do not cover integration with management practices or with other organizational processes.
Following an U.S. executive order, NIST released in 2014 the Cybersecurity Framework,
A document that provides a methodology to implement information security in an organization's cyber environment, making it easier to identify and use all other documents from the SP 800 series.
NIST SP 800 Series Key Takeaways

Similarities:
NIST SP 800 process-related documents provide method-ologies for how to implement the frameworks in practice, while ISO 27001 already has proven implementation methodologies available in the market. Although their steps are not 100% aligned, minor adaptations can easily narrow the gaps (see next section for detailed information)

Process-oriented:
NIST SP 800 process-related documents make use of a process approach to organize the activities, and this can be used to form a systemic view of how they can interact.

Security implantation based on risk management:
NIST 800 series adopts a risk management approach to define which security controls and safeguards should be applicable

Technology neutrality on processes:
Considering processes, all three approaches rely on general concepts, in both information technology and information security, which gives organizations the freedom to adopt the technologies most suitable for their environments