The organization needs to conduct risk assessments in each of the regional sites to identify which are the high-risk subject areas. An "organizational code of conduct" with policies needs to be written which will then be integrated into the organization.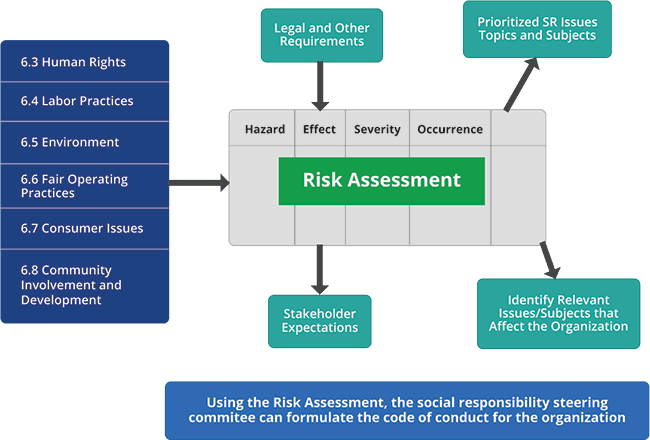 Social responsibility can be integrated into the Management System of the Organization. Omnex believes in Best-in-Class Integrated Management Systems including Quality, Environmental, Health & Safety, Social Responsibility, and IT Security.
Different Types of Codes and Standards
Process
Describes processes companies
should use:

Performance
Describes how companies should behave, for example:

Codes and Guidelines Can also be Characterized by Stakeholder Groups
Types of stakeholders:

ISO 26000 is a multi-stakeholder initiative:
Includes views of over 400 experts and stakeholders

Intended to address many stakeholder communities
Watch the webinar:
Best in Class Integrated Management Systems – Integrating QMS, EMS, OHSAS, IT Security, and Social Responsibility
Companies have to comply to various standards; not just ISO 26000. There are multiple codes and requirements for social responsibility and sustainability that organizations have to comply with. Dr. Wayne Visser, one of the top 20 leaders in social responsibility and sustainability, and Chad Kymal, CTO of Omnex, wrote a paper on this integration & termed it 'Creating Integrated Value: Beyond CSR and CSV to CIV'.
Typically, engagements start with a Gap/Diagnostic Assessment studying the current work practices, processes, business context, HR practices including the Skill/ Talent Management process related to social responsibility and our sustainability practices inside the organization. This assessment then leads to developing an As-Is diagnostic of the company. We then work with the management team to understand their vision and future business strategy and plan the implementation roadmap. We always look for Best-in-Class opportunities including opportunities for Net Zero/Net Positive (Net 0/Net+ ) and integrated value.