IATF 16949 - The International Quality System Standard for Automotive Suppliers
History and Background of IATF 16949
Quality systems have been deployed in the automotive industry for many years. Companies like Ford, General Motors and Chrysler has developed QS-9000 in the USA, which unified their supplier quality system requirements in a single document. Similarly, Quality system requirements like EAQF, VDA6.1 and AVSQ were developed in France, Germany and Italy. This means that the automotive suppliers, and those servicing multiple vehicle manufacturers, had to meet a variety of Quality System Requirements all with the same goal in mind. The idea of harmonizing automotive quality system requirements grew as a collective goal. The International Automotive Task Force (IATF) was established as an initial point, and also had representatives from almost all major European and North American vehicle manufacturers, suppliers and automotive trade associations. The ISO/TS 16949 was created in 1999 to standardize several evaluations and certification processes used in the global automotive supply chain.
In collaboration with the International Organization for Standardization (ISO), the group developed and published "ISO/TS 16949:1999 - Quality Systems - Automotive Suppliers - The specification was developed with input from the four established automotive standards: QS-9000, VDA6.1 (Germany), EAQF (France) and AVSQ (Italy).
ISO/TS 16949:2009 specified the quality system requirements for the design/development, production, and (where relevant) installation and servicing of automotive-related products.
Later in 2015, when ISO 9001:2015 was released, ISO/TS 16949 had also undergone revision to become IATF 16949:2016. IATF 16949 is no longer an ISO Technical Specification standard.
As ISO/TS 16949:2009 got replaced with IATF 16949:2016, it mainly specified the requirements for a Quality Management System (QMS), in the automotive. The IATF 16949 standard emphasizes the establishment of a Quality Management System that allows for continual development, with a focus on defect prevention and supply chain variation and waste reduction. The standard also provides the QMS standards for automotive production, services and/or accessory parts when paired with Customer-Specific Requirements (CSRs). IATF 16949:2016 is a stand-alone QMS standard that is completely consistent with the structure and requirements of ISO9001:2015. As a result, the IATF 16949 cannot be used as a standalone document; rather it must be used in conjunction with or as a supplement to ISO 9001:2015.
What is New in IATF 16949:2016?
Gaining an understanding of the Organizations and its context.
Recognizing the needs and expectations of those who are interested.
Commitment and Leadership.
Responses to risks and opportunities.
Customer Specific requirements – Included in the scope of the Quality Management system. IATF interprets this also to mean that they are integrated into the processes of the organizational QMS.
Product Safety: Management of both Product and Process safety requirements are introduced to address final customer product safety concerns.
Development of Products with Embedded Software: Use a Quality Assurance process including a software development assessment methodology. Maintain a self-assessment of your software development capability.
Temporary Change of Process Controls: Requirements to maintain a list of process controls and alternatives and document sufficiently to remove risk and maintain traceability in case there are issues.
Competence of first and second-party auditors.
Specific requirements for manufacturer feasibility.
New requirement added for warranty management.
New requirement added on repair and rework processes etc.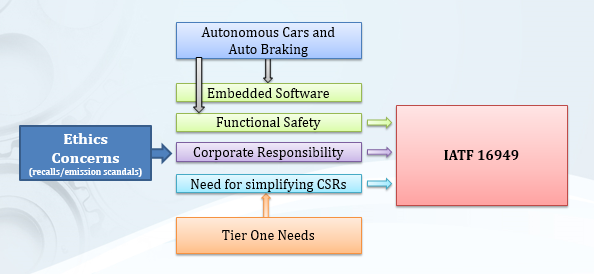 How to Implement IATF 16949:2016
Discuss and plan the approach to QMS.
The strategy must be determined before the gap analysis is conducted.
Identify Key strategies to be used.
Conduct a discovery/gap analysis to determine where the organization stands in reference. to the overall IATF plan and strategy.
Develop an implementation plan with a steering committee and process owners.
Implement the key strategies and initiatives.
Document the process and procedures.
Roll out the new system.
Conduct internal audits.
Conduct a management review.
Conduct third-party audits.
Omnex has been implementing Management System integrating IATF 16949, ISO 9001, ISO 14001 & ISO 45001 for numerous organizations worldwide.
Why should you choose Omnex?
We have pioneered the business process approach for quality systems implementation with more than 20,000 companies worldwide.
Omnex has worked with most of the major Automotive and Truck OEMs and their tier-1s worldwide. In fact, Omnex has been at the forefront of developing and deploying all major Automotive OEM initiatives, starting from the Ford Motor Company in the 1990s.
Maximum value-added implementations achieve maximum cost savings.
High return on investment.
Customized quality improvement software solutions.
Our methodology of implementing quality systems has been acclaimed worldwide for its superior quality, cost savings, process fine-tuning, business improvement, and an unmatched set of value-added tools.
We represent AIAG committee members for writing manuals such as FMEA, SPC, etc.
We were involved in the writing of QS 9000, QoS, and SAC 9000.
IATF 16949:2016 - Key Requirements
The IATF 16949 standard mainly provides a set of guidelines for organizations who want to ensure that their products have the quality to fulfill and improve customer requirements and customer satisfaction over time.
IATF 16949:2016 concentrates on the effective linkages in the company's business plan, quality policy, quality objectives, and measures.
The new structure of ISO 9001:2015, on which IATF 16949 is based, has ten clauses.  Clauses 4-10 are pre-requisites.
The standard specifies how objectives can be achieved and deployed throughout the organization.
The core objective of this automotive QMS standard is to create a quality management system that promotes continual improvement while prioritizing defect prevention, and reduction of variation and waste in the supply chain.
The ISO standards are used in conjunction with IATF 16949, a stand-alone automotive QMS standard:
IATF 16949 – establishes the Automotive requirements of a quality management system
ISO 9001 - describes the base requirements of a quality management system
ISO 9000 – represents the basic fundamentals and their concepts.
ISO 19011 – provides the direction of internal and external audits of quality management systems
ISO 31000 – explains the risk management principles and guidelines
Benefits Associated - IATF 16949:2016
Enhanced Customer focus and improved customer satisfaction.
Greater confidence in global sourcing.
Ensures the development of a quality system in the supply chain for suppliers and subcontractors.
Creating a common language to improve supply chain understanding of quality system requirements.
Continuous improvement of business performance through ongoing certification audits
Engagement of employees through employee empowerment programs
Bottom-line benefits through increased efficiency reduced waste and better utilization of resources.
Single quality system registration to meet multiple customer quality requirements
Incorporates the best lessons learned from the global automotive segment
Documentation is in line with the high-level structure. So easy to integrate with other standards.
Create a continual improvement culture